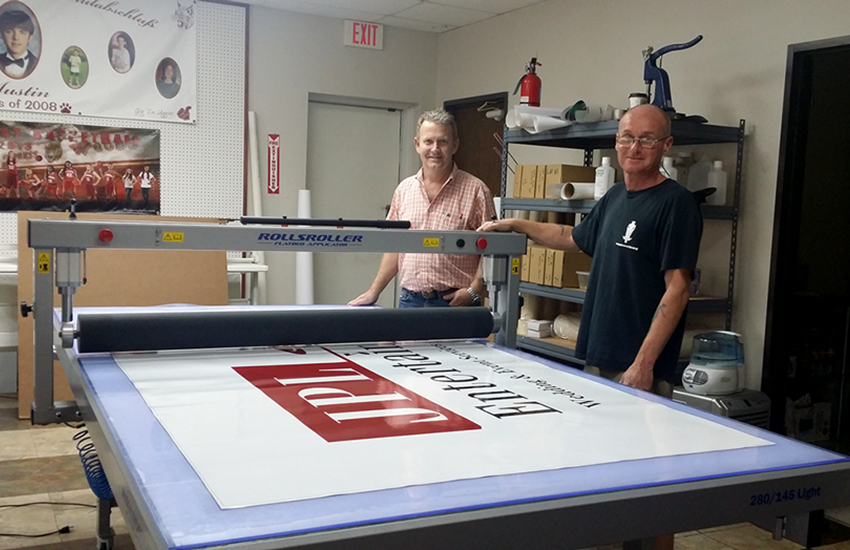 inkDOTS Printing Solutions
The production team at inkDOTS is excited about the performance of our new ROLLSROLLER Flatbed Applicator!
We print and mount a ton of 4'x8' (120x240 cm) signs and with the efficiency of this machine we have cut our mounting time by at least 66%! It is one of those purchases that once you have it, you wonder how you ever got along without it. Simple to use and easy to maintain, our ROLLSROLLER has one of the best ROI's of anything we have purchased to date!

I will start by saying we were already really fast at mounting with a laminator before we bought the ROLLSROLLER.

I would say it took us 7-10 minutes per sheet total time with the laminator.
Now it's about half that. So if you take the 7 minutes to be conservative here is what I would estimate for inkDOTS.
7 minutes laminator
3 minutes ROLLSROLLER
4 minutes difference/savings
150 sheets per month minimum
600 minutes saved / 60 minutes per hour = 10 hours saved
$60 per hour shop rate
$600 per month in savings
$15,000 cost on ROLLSROLLER/ $600 per month savings = 25 months ROI – Call It 2 years.

Again, these are minimum numbers.
Double the output with ROLLSROLLER
The big gain to me is not the money saved but the opportunity cost associated with the ROLLSROLLER. The way I look at it is ROLLSROLLER allows that same employee to do twice as much work with the same amount of effort/time. Anytime you can double your output with a single pc of equipment, the value is much greater than the ROI on paper.

Keith & Debbie Nichols
Owners – inkDOTS Printing Solutions
Houston, TX
ROI: 24 months
Company: inkDOTS Printing Solutions
Country: USA
Model: ROLLSROLLER Entry
Year of purchase: 2014
Need advice? We can help you!
Fill in your details and our experts will contact you!