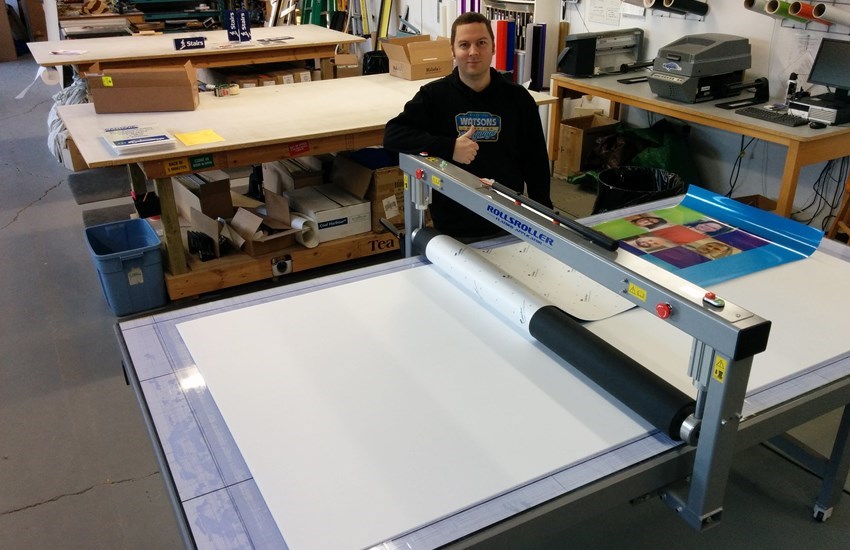 Watsons Engraving & Signage Inc.
We are extremely satisfied with our purchase of a ROLLSROLLER Entry machine. In fact our roll to roll laminator sits pretty much unused since we got our ROLLSROLLER 2 years ago. The ability to quickly and effortlessly mask, laminate and apply vinyl graphics without worrying about webbing and un-webbing our regular laminator has saved us countless hours in production time.

Even simple tasks such as applying a print to a 4x8 board, which use to take 2 employees about 10 minutes to do with our standard laminator, can now be done by 1 employee in less than 5 minutes, and the results are always perfect, which cuts down on wasted material and time. It's so easy to use, I could pull someone off the street and have them applying vinyl perfectly in 10 minutes!

I believe that our ROLLSROLLER is one of the most profitable investments we have made in the last 22 years.
Scott Watson
Watsons Engraving & Signage Inc.
ROI: 12 months
Company: Watsons Engraving & Signage Inc.
Country: Canada
Model: Rollsroller Entry
Year of purchase: 2013
Need advice? We can help you!
Fill in your details and our experts will contact you!