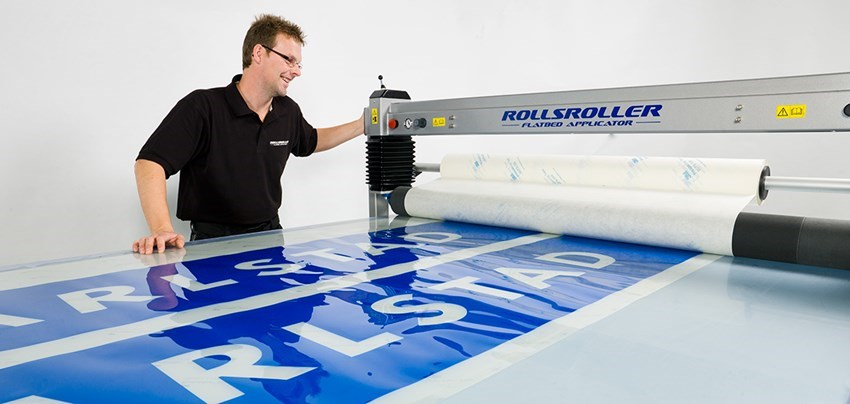 How to make traffic signs
Over the past decade several hundred road sign manufacturers have increased their productivity more than 100% by upgrading their production line to ROLLSROLLER flatbed applicator technology.
ROLLSROLLER optimize workflow for production of road signs


"As the fifth company in the world, we now have an entirely digitalized production of road signs. This is our third generation of technologies with a printer, a laminator and a cutting machine. When it comes to mounting of reflective vinyl and applying transfer tape to ECOF we have kept our ROLLSROLLER. They complete the new technology in an excellent way and that is where we actually see the great savings of time. We save a large amount of time and have more than doubled our capacity. We got our first ROLLSROLLER ten years ago and today we have seven of them."Jonas Forsvall, MD, Blinkfyrar AB. Sweden
Efficient road signs production and traffic sign production with ROLLSROLLER
"We used to apply road signs by hand, and that puts a great strain on the body. Especially when you produce large road signs. Today, all our employees have their own ROLLSROLLER. It significantly reduces the strain on the staff's bodies, the productivity is a lot higher and the results are better. We also got a large ROLLSROLLER with two glide beams. That means that when we make smaller traffic signs, two people can work at the same time at that table. ROLLSROLLER is also very flexible. We do not only make road signs, but all possible sorts of commercial signs, and we always have use for our ROLLSROLLERS. It is definitely our best investment."
Ann Ljungström, Production Manager, Plast & Plåt Vägmärken AB
"ROLLSROLLER has helped us increase our productivity and improve the quality of our road sign production"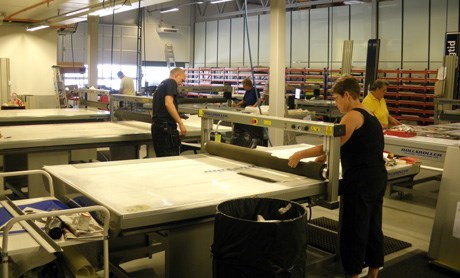 "If I tell you we've bought more than 20 ROLLSROLLERS over the years, you'll all understand how delighted we are with their performance. The reason we've bought so many is that we've got several production locations in Norway, Denmark and Sweden. Euroskilt only makes road signs. We are market share leader of the Norwegian market, so naturally our production needs to be as efficient as possible. ROLLSROLLER has helped us increase our productivity and improve the quality of our traffic sign production. But perhaps most important of all, we've reduced repetitive strain injuries. Our staff works far more ergonomically now, thanks to ROLLSROLLER."
Trond Aamodt, project manager, Euroskilt AS, Norway
Read more - Case stories
ROLLSROLLER saves time and doubles capacity for traffic sign manufacturing
ROLLSROLLER is far more productive and produces better results than traditional methods
Road sign manufacturing is changing with ROLLSROLLER Flatbed Applicator
Need advice? We can help you!
Fill in your details and our experts will contact you!